The weather is warm and people are spending more time outside in their yards.  Backyard oasis's are trending and we can understand the draw to make your yard an at home vacation spot.  How can you achieve this home improvement idea without breaking the bank?  CH Construction would like to give you some tips and money saving ideas for creating a backyard oasis.
Pergola
One of the most common additions to a backyard that CH Construction builds is Pergolas.  Often home owners will chose to build a pergola on their patio to create a natural structure that will add to the aesthetics of the existing patio.   Another is the cost is less than building a deck system and the maintenance is decreased with a pergola.  They will often add outdoor living spaces under the pergola as well.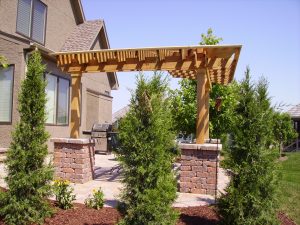 Outdoor Kitchen Spaces
Creating an outdoor living space is one way to bring the comfort of home outside.  Outdoor kitchens are a man's best friend, literally.  Dads enjoy the BBQ and convenience of these outdoor kitchens.  By simply adding countertops and a mini fridge next to your BBQ grill you can create an inexpensive kitchen for dad.
Outdoor Living Room
Outdoor living rooms are a great addition to your outdoor living space.  You can enjoy the comfort of home outside.  It's a perfect place to gather with friends and family.  Using items from your home and second hand stores and a little DIY project can give new life to these items.  The video below gives some great tips and ideas for an outdoor living room.
Fire Pit
Another inexpensive addition to a backyard oasis is a fire pit.  You can add this to your garden area or your outdoor kitchen. It is a fantastic place for roasting hot dogs and marshmallows.  The most important thing to remember when choosing the location is to make sure it is not near a structure that embers won't be a fire hazard.
Gardens
Creating a vegetable or flower garden in your yard will add beauty to your yard.  A stepping stone path, trellis or fountain can also add to this small oasis.  When choosing plants for your garden you will need to determine the amount of time and effort you will want to invest in the upkeep of the garden.  Your local greenhouse can help you decide what plants will be best for you to enhance your garden annually.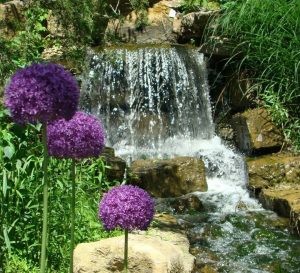 Access to your backyard Oasis
When considering your backyard oasis, you may want to also invest in French doors to add to the beauty and access to your new space.  The attractive doors invite guest and family to enjoy the spaces on both the inside and outside.
Ultimately, creating a back yard oasis is investing in your home.   The benefit ranges from 5.5% to 12.7% depending on the type of backyard oasis and the home's original value.  Most importantly, it's a space for your family and friends to enjoy for years to come.  Give CH Construction's owner, Brandt Hall, a call if we can assist you with any home improvement projects.