Millwork is any type of woodwork that is produced in a mill. Therefore, this includes doors, molding, trim, flooring, wall paneling and crown molding. Moulding and flooring are often produced in mills and are therefore considered to be millwork. Many historical homes have custom millwork throughout the home.  When you look toward the ceiling and see coffered ceilings, intricate trim and moldings the pure beauty can be distinguishing to a home.   You can remodel your home to add these features; wainscoting, custom mantles, detailed trim and built in cabinets. These features can create a home that is unique.

Sustainable
If you are wanting to be more sustainable in your home remodel, aandemillwork.com recommends, "Traditional millwork has typically been crafted using hardwoods, but modern carpentry has a wide range of energy efficient materials to choose from. Have your custom millwork designed using reclaimed woods, blended synthetics, bamboo, cork, and other environmentally friendly resources to make your home greener and, as a result, more valuable."
Increase the Value of Your Home
Better Home and Gardens notes, "Custom millwork adds grandeur to this home's library, which is the first room you see when you enter the home. Pilasters with capitals occupy each corner of the room and frame the doorway. Banks of shelves on each end of the room are topped with identical sets of arches that give the room exacting symmetry. The rich cocoa wall color, which repeats inside the shelves, highlights the architectural detailing and also grounds the room's color palette." The best way to describe how custom millwork increases the value of the home is 'home resale value'.  When selling your home in a market that is over saturated, you want your home to stand out.  With custom millwork, 67.60% of home buyers believe that the visual importance of moulding an trim is extremely important.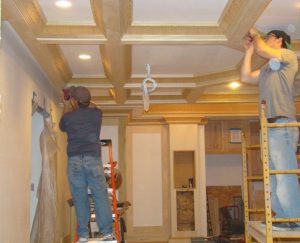 One of our projects was a intricate custom millwork trim installation for a residential home theater. Our crew completed their portion of this large basement remodel. It was exciting to be a part of such a grand project. When working on a project of that size you are coordinating schedules with other contractors. CH Construction makes it a point to meet our deadlines, as we did on this project. Our customers satisfaction is a priority.  Check out our portfolio page to see some of our other mill work projects.